The Joint at Hard Rock Hotel & Casino
Ghost fans, you're in luck!! Your favourite Satanic, synth-laden doom band (as if there are any others quite like them in the world) are on tour in 2018 with their latest album, "Prequelle". They're headed to The Joint at Hard Rock Hotel on Saturday 17th November 2018 for a show you'll never forget!! Hit the "Buy Tickets," button now and grab your place while you can!!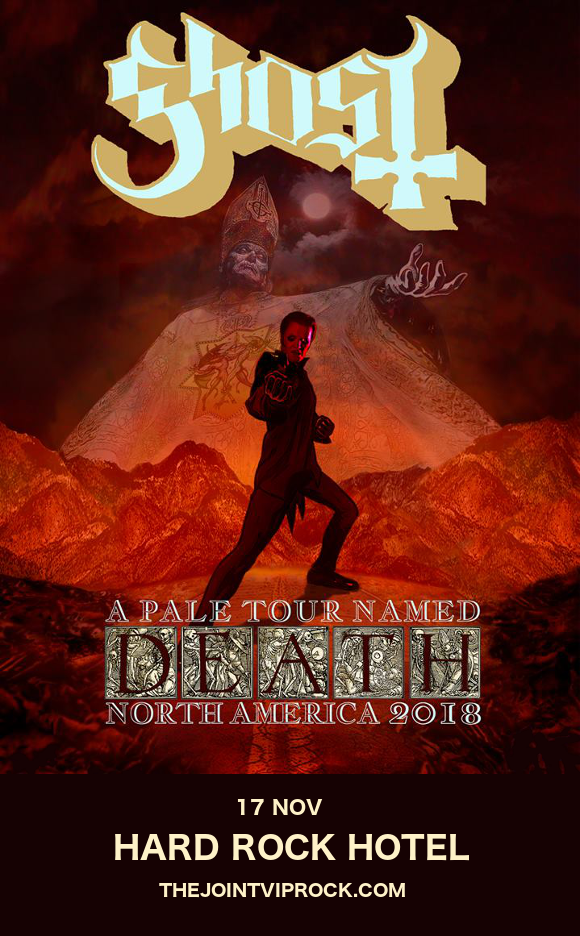 Despite line-up changes and some difficult copyright controversy pushing the previously-unknown and mysterious masked frontman, Tobias Forge, out into the public spotlight, Ghost have forged ahead and are now on tour with their latest album, "Prequelle," and it's an incredible album. Loved by fans, "Prequelle" has been cited by many critics as one of the band's most accomplished records yet. "Ghost deliver fully on the promises of earlier records," enthused an AllMusic review. "Their strengths — including one for imitation — are fully assembled and focused in an exercise of irresistible arena rock excess without sounding like a pastiche."
Ghost's truly unique live shows are guaranteed to leave an impression. One thing's for show – there's no other rock band quite like them!! Don't miss out – get your tickets to see Ghost now, while stocks last.