The Joint | Catoosa, Oklahoma
Get ready for an "Evening with Primus & Clutch!!" These two epic bands are going on a massive 24-date tour around North America between July and August! The trek will bring them to The Joint at Hard Rock Hotel on the Wednesday 9th August 2017! Tickets on sale now and disappearing fast – hit the "Buy Tickets," button now to be sure of your place!!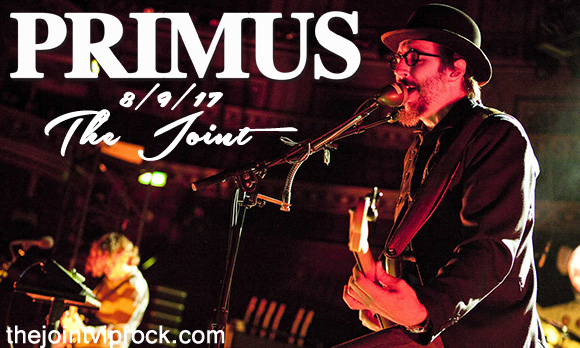 Described as everything from funk metal to experimental rock to alternative metal, Primus – currently a power trio formed of Les Claypool, Larry LaLonde and Tim Alexander – have been blowing listener's minds ever since they got together in 1984!! Soon after they started gigging, they became locally famous for their truly unique funk fusion sound.
Their first album, "Suck On This," (released after the final linsup had only been playing together for two months!!) was well-recieved by fans of the genre and critics alike, described by AllMusic as "not only demonstrating Primus' undeniable live flair for art/prog rock/funk of its own devising, but capturing an already rabid fan base getting off on it big-time". The album is now considered to be one of the most important in bringing about the popularization of the otherwise underground alternative metal genre alongside Jane's Addiction's first album, a band Primus later went on to tour extensively with.
Primus will now be on tour promoting their 2014 album, " Primus & the Chocolate Factory with the Fungi Ensemble," a bizarre reworking of the soundtrack to the film "Willy Wonka and the Chocolate Factory". Clutch, on the other hand, will be showing off "Psychic Warfare," listed on Loudwire's "20 Best Rock Albums of 2015"!!