The Joint | Catoosa, Oklahoma
Are you ready for the biggest popular rock show of the year!? That's right, its the Kings of Leon on their massive tour supporting the most recent album "WALLS"!! With support from folk rockers Dawes, they'll be coming to shake up The Joint at Hard Rock Hotel on Friday 6th October 2017. Guaranteed to be a sell out show. We're all very excited! Book your tickets now while they last and get down early on the day for the best possible spot at the show!!!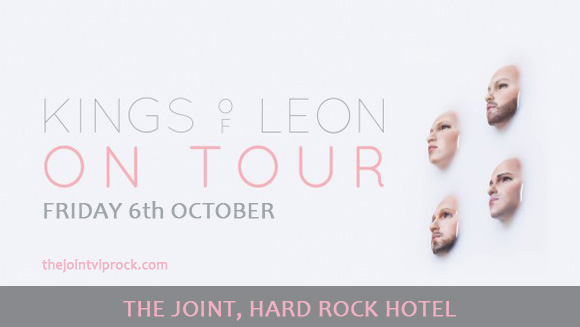 Kings of Leon are a band that truly need no introduction. Formed in Nashville, Tennesee, in 1999, and comprised entirely of one family: brothers Caleb Followill. Nathan Followill, Jared Followill. And theiwith their cousin Matthew Followill, the band gradually expanded their original Southern rock and blues sound towards what became predominantly an alternative, arena rock sound. Initially finding fame in the UK with 9 Top 40 Singles and 2 Brit Awards, they later found success in the US with the release of "Only The Night," their fourth album, including the massive singles "Sex On Fire," and "Use Somebody".
In support are another family band, Dawes. Made up of Taylor and Griggin Goldsmith, brothers, on guitars/vocals and drums respectively, with Wylie Gelber on bass and Lee Pardini on keyboards, Dawes initially had a post-punk sound, which they later ditched in favour of folk rock. Influenced by artists including Nash, Crosby, Joni Mitchell and Neil Young, they have been described as having a Laurel Canyon.
What are you waiting for?? Get your tickets to see Kings Of Leon and Dawes today!!