The Joint at Hard Rock Hotel & Casino
Don't miss your chance to see the hottest show of the year- Bryson Tiller at The Joint at Hard Rock Hotel on Saturday 12th August 2017! Now on tour with their second album "True To Self", Bryson Tiller tickets are selling out fast!! There are still some left, but don't delay – they won't last long!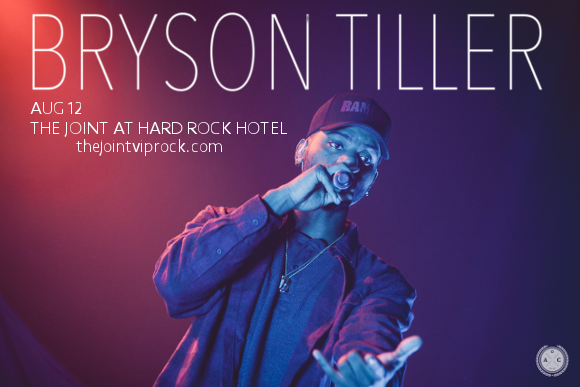 Born in Lewisville, Kentucky, Bryson Tiller was raised by his grandmother since the age of four. He started to sing and rap at the age of 15, and started his musical career in 2011, releasing his first mixtape, "Killer Instinct Vol. 1", featuring 21 songs. His single "Don't", released on his SoundCloud page in 2014, started to attract attention from the music industry. Officially released on iTunes in May 2015, the single hit the 13th spot on the Billboard Hot 100, it was the lead singer of his debut studio album "Trapsoul".
"Trapsoul," was hugely successful, and featured on multiple 2015 best-of lists including those by Complex, The Root, and PopSugar. His second album, "True To Self" hit the number one spot on the Billboard 200 and was met with huge enthusiasm from audiences and critics alike!
Don't miss your chance to hear the new album live – book your tickets to Bryson Tiller TODAY!!